Introduction
On m'a offert ce super kit pour fabriquer un petit ampli pour guitare électrique, basé sur le modèle simplissime d'un des premiers amplis Fender.
Le kit est très bien fait, avec son châssis déjà percé et toute la quincaillerie. Il a été vendu et expédié par Barry d'Amp Maker.
Je ne vais pas détailler les étapes de construction, très bien décrites ici, mais plutôt les difficultés que j'ai rencontrées au cours du montage et les solutions que j'ai trouvées.
Introduction
I was offered this DIY amp kit, to build my own guitar amp from scratch, based on one of the simplest models of early Fender amps.
This kit is very well furnished, with a chassis already drilled, and all the hardware. It was shipped straight to France from the UK by Barry at AmpMaker.
Here I am not going to describe every building step, described here, but will instead focus on what difficulties I had and which solutions I found.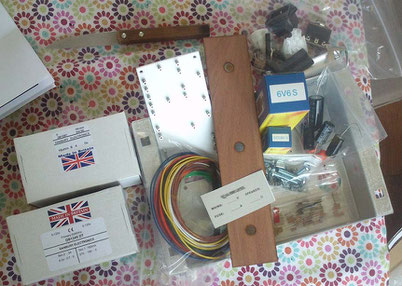 ---
Premiers pas
Placer les transformateurs et les supports des lampes sur le châssis n'a rien de bien compliqué. Il faut simplement prendre son temps pour bien positionner les supports, avec le détrompeur dans le bon sens, et les visser correctement.
First steps
Positioning the transformers and the tube sockets is not difficult. You have to take it slowly, to put the sockets in place with the pins in the right direction, and tighten them securely to the chassis.
Le turret board est la plaque qui soutient le montage électronique, le cœur de l'ampli. Il n'y a rien de sorcier ici non plus, à part peut-être couper les pattes des composants à la bonne longueur. J'ai eu tendance à les laisser un peu longues, mais comme on dit, il vaut mieux trop que pas assez !
The turret board is the board where all the components take place, it is the heart of the amp. Nothing too difficult here either, except maybe cutting off the right length of legs from the components. I think mine were a bit too long, but if a little is good, more is better!
---
Câbler
C'est là qu'il faut faire plus attention. Le câblage se déroule en plusieurs étapes.
Alimentation du transformateur de puissance,
Alimentation des filaments des lampes,
Câblage entre les lampes et le circuit électronique,
Câblage du transformateur de sortie,
Câblage de la sortie haut-parleur,
Alimentation du circuit en haute tension.
Wiring
You have to be very attentive here. There are several steps to wire the project.
Connect the mains to the power transformer,
Wire the valve heaters,
Connect the valves to the circuit,
Wire the output transformer,
Wire the speaker output socket,
Connect the high-voltage supply.
Deux remarques :
Barry, d'Amp Maker, a une super technique pour l'alimentation de la lampe de préamplification, qui consiste a n'utiliser qu'un fil pour relier les broches 4&5 de l'embase... Je n'ai pas réussi ! A la place, j'ai utilisé un petit fil pour les relier.
La sécurité n'est absolument pas une option. Je tiens à rappeler que les tensions dans un amplificateur sont très élevées, donc mortelles. C'est pourquoi il est CAPITAL d'isoler le transformateur de sortie.
Two observations:
Barry, at Amp Maker, has a wonderful technique to connect the heater of the preamp valve, consisting in using only one wire to link pins 4&5... I couldn't manage it! I instead used a small length of wire to link them.
Safety is in no way an option. I must remind you that voltages in an amplifier are very high, hence lethal. This is why you MUST insulate the output transformer.
---
Tester avant de brancher
Ce passage donne une bonne idée de la marche à suivre avant la première mise sous tension.
SURTOUT ne pas brancher l'ampli. Comme dit Barry sur son site, c'est la seule et unique fois où l'on peut être certain qu'il m'y a pas de charge létale dans l'ampli. S'il a été branché, déchargez complètement les condensateurs avant d'agir.
Tester la continuité du courant à la masse : tous les composants doivent y être reliés. On utilise un multimètre en mode test.
Tester l'absence de continuité entre les broches adjacentes des embases des lampes, seules les broches 4&5 de la lampe de préamplification et 7&8 de la lampe de puissance doivent être reliées.
Ces tests initiaux sont importants car ils permettent de corriger les erreurs éventuelles avant la mise sous tension de l'appareil.
Testing before pluging
This part gives a pretty good idea of what must be done before the first power up.
DO NOT plug the amp into the mains. As Barry says, it is the one and only time you can be sure there is no lethal charge in the amp. If you did, make sure to discharge the capacitors before continuing.
Test the continuity-to-ground. Every component must be grounded. Use a multimeter in the test position.
Test the absence of continuity between adjacent pins on the valve sockets. Only pins 4&5 of the preamp valve and pins 7&8 on the power valve must be connected.
These tests are necessary, so you can correct eventual mistakes before you power up the amp.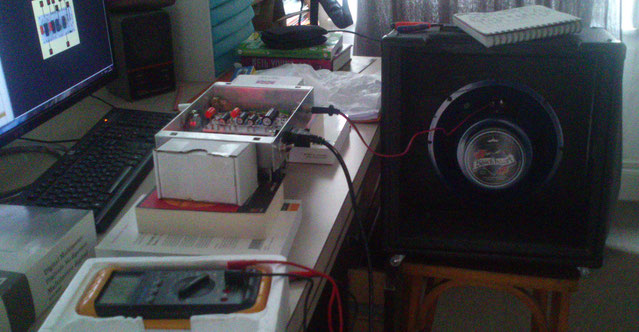 ---
Mise sous tension
Toutes les étapes étant détaillées sur le site Amp Maker, je vais simplement m'attarder sur une valeur caractéristique de mon ampli.
La tension de la cathode de la lampe de puissance devrait être de l'ordre de 18V, or je mesure une tension de 19.5V. De cela découle une puissance dissipée par la plaque de 13.4W au lieu de 11W !

Cette différence est simplement due au fait que le condensateur de 22µF utilisé pour les mesures du site a été remplacé par un condensateur de 47µF. Rien d'inquiétant, en somme !
Power up
Every step being described on the Amp Maker website, I'm only going to focus on one remarkable measurement of my amp.
The cathode voltage of the power valve should be of 18V, instead I measured 19.5V. Hence, the plate dissipates a power of 13.4W instead of 11W!
This difference is because the 22µF capacitor that was used for the measurements on the website was replaced by a larger 47µF cap. Nothing to worry about !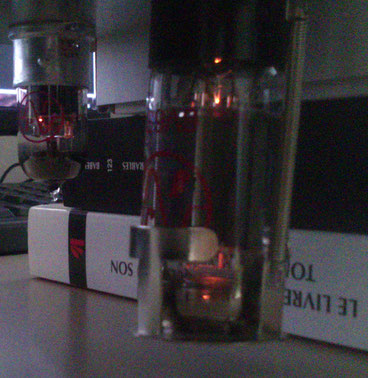 ---
Le son
Le son est rond, propre, très agréable.
Quand on pousse un peu le volume, un overdrive for sympathique se manifeste. Et quand on met tout à fond, l'ampli crunche facilement et répond très bien à la dynamique de jeu...

Il a aussi un léger vibrato, qui vient on ne sait d'où et qui lui apporte une signature unique.

C'est un montage minimaliste qui permet de travailler en profondeur le son de la guitare.
The sound
The amp has a round, clean, very nice sound.
When you crank the volume up a bit, a smooth overdrive shows up. And when you crank the volume all the way up, you have a nice crunch that responds very well to the way you play the guitar...
It also has this light vibrato effect, that comes quite out of the blue and which makes it unique.

It's a minimalist amp that makes you work hard on your guitar sound.
---